LTE NL | Jolanda Plomp Q&A on 740m-trains
2020-07-22 | LTE News, Ressources
As featured in an earlier blog, LTE NL operates 740m trains from Rotterdam NL to Mannheim DE and back. Despite all the skepticism around, it turned out that is it "quite ok" to run 740m trains.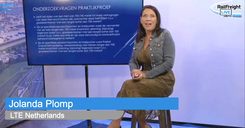 LTE NL CEO Jolanda Plomp was interviewed by railfreight.com on her experiences with running 740m trains.
Her statements are at 12:00 and 22:58.
...but of course, you can watch the whole video ;-)
For further reading see the blog on railfreight.com
or our blog "LTE | Limits can be extended" (20200409)
Stay informed!
Fill in your email address and be informed get regular update from LTE-group!