The Allrounders
2017-10-17 | Ressources, LTE News, Ecology
LTE-group is currently expanding its operations by more multi-system locomotives from Siemens. With these "Vectron"s, LTE sets new standards in the logistics industry.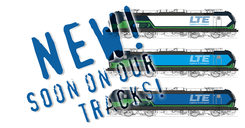 Thanks to their specifications multisystem locomotives are capable of passing limits, both technically and logistically.
This of course only possible if the train drivers are among the best trained in the industry and have appropriate licenses. Then transports across several countries without interruptions are no longer an utopia.
A few days ago LTE-group took over transnational transports without time-consuming stays, thus providing its customers with significant advantages in the competition. This because the employees of the LTE-group are able to offer their customers transport solutions from door to door, time, energy and, last but not least, cost-saving throughout Europe.