LTE | Off to Rio!
2020-02-20 | LTE News
Dorina and Ronja Klinger from Frauental, AT, are among Austria's top young hopes in beach volleyball, as last season's important successes gave evidence. With good grades they are now quite impressive on the university campus in the USA as well as on the trendiest beach in the world, the Copacabana.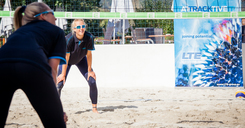 "We're soon leaving for Rio for three weeks," Ronja says motivated. "We will train there 'properly', because until now the focus was only on athletics. In Rio we will shift the focus to tactics," she continues. "Rio is THE beach volleyball city," Dorina also emphasizes and both add: "We have never been to Rio. It is an incredibly enthusiastic city when it comes to beach volleyball. There is always wind on the Copacabana, the tournaments are outside, there are always changing conditions, in contrast to the gym where we have trained so far. "
Well that's a lot of understatement, because last year they launched some fireworks during some tournaments. Above all, at the Austrian Majors on the "Donauinsel" (Danube island), they delighted audiences and critics: "At that time we were seeded as the penultimate team and we managed to win against two Russians (seeded 2nd), who finished fifth in the Olympic Games in 2016. "
That way, of course it's fun to play: "Real fun," laughs Ronja. The two also enjoyed the USA, where Dorina completed her business studies, accompanied by "her" sport and finally by her sister, where they stirred up the local teams. "In the States, sport is very closely linked to studying and enjoys a much higher status than here," says Dorina. "With us, on the other hand, it is almost impossible to combine sport and studies." Therefore, the two of them recently joined the Austrian Federal Armed Forces, which now enables them to concentrate on their sportive career. "And of course LTE-group," the two add happily, "is our most important sponsor."
... which somehow closes the circle, because they are both "very attracktive", the Klingers and LTE-group.
Images
Stay informed!
Fill in your email address and be informed get regular update from LTE-group!