LTE AT | new cars for our wagon inspectors
2019-05-28 | LTE Specialists
Just to be on the safe side - our wagons travel a lot and so do our wagon inspectors. To bring wagons and inspectors together, we equipped the latter with new cars.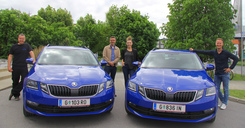 A few days ago new cars have been delivered to LTE - this time for our wagon inspectors. In our typical LTE-blue they travel all across Austria to ensure the safety and reliability of the freight wagons transporting (maybe your) goods through Europe.
Markus Ortner (on the left) and Lukas Freewein (on the right) from the LTE "Wagenmeister"-Team ("Masters of Wagons" you could call them with a wink) check the wagons thoroughly for damage or defects, perform brake tests and finally decide if the particular car is fit to continue to its destination or needs to be taken in for repair.
Our wagon masters and their responsible work make sure that your goods travel safely at their destination - "from port 2 port" - all across Europe.
(center of picture: Bianca Schwarzl und Andreas Piruchta)
Images