The Roaring Twenties
2020-02-10 | LTE News
At the turn of the year, LTE was able to look back with satisfaction on the past two decades of consistent corporate prosperity. The LTE-group team is now looking forward to an exciting decade: the personal 'Roaring 20ies'.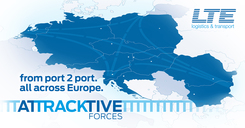 Since its foundation almost 20 years ago, the company has relied on a strong presence on its network of routes, which has become integral in large parts of Europe. "Last year we managed to set the course for a ninth subsidiary in Bulgaria and our sister company Adria Transport in Slovenia is expanding its business to Croatia," said Andreas Mandl, CEO of the LTE-group, not without pride.
The LTE will soon be operating in nine European countries (AT, HU, SK, CZ, NL, DE, RO, PL, BG) with its own subsidiaries and its sister company in Slovenia and Croatia. In the last few years, the group's turnover has grown to 135 million euros, the fleet to approx. 80 locomotives and currently 460 specialists from various genres are already working for the LTE-group. "The subsidiaries operate extremely successful in their individual markets," emphasizes Michael Benda, CFO of the LTE-group. "The colleagues in Germany operate extremely efficient with a very lean structure and our youngest daughters in Romania and Poland quickly grew from one-man shows into two successful companies with a total of 100 employees.
Basically, the LTE-group practices the idea of a united ​​Europe every day, as it develops specially tailored successful concepts for its customers, which are implemented individually with and in the nine subsidiaries. In other words: "Decentralized organization with our companies, but one face to the customer." In addition, rail transport makes an important contribution to climate protection: in Austria, for example, there is only green (CO²-free) traction current, i.e. it comes from 100% renewable energy.
Stay informed!
Fill in your email address and be informed get regular update from LTE-group!