Rotterdam | NL: Managing Director Markus Rotterdam
2015-12-30 | LTE Specialists
Being an important trading intersection in Europe, Rotterdam - one of LTE-groups local precences - is vital for the continental commodity flows.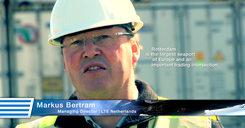 Rotterdam is the largest seaport of europe and an important trading intersection. Since the LTE-group operates on the north-south as well as on the east-west-axis of europe, local presence at the start an end points of these commodity flows is essential.
LTE-group loves the challenge to develop new destinations. With their young but experienced dynamic team, they provide the best requirements for an optimal implemention of customer solutions.
Watch the interview on youtube.
Images