New Years Dinner | LTE-AT
2019-01-14 | LTE News
On January 11th LTE Austria invited to of this year's New Year's reception in Graz.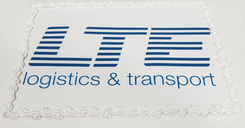 Managing Director Heinrich Juritsch and his team, as well as colleagues from GKB, employees of ECS and a total of 63 guests, including representatives of LTE Holding, Michael Baier and Andreas Mandl, enjoyed a sumptuous New Year's buffet with Styrian delicacies.
Enjoying lentil salad and hearty head cheese ("Presskopf"), Andreas Mandl not only mentioned the achievements of the past year, which again gave the LTE–group a remarkable upswing, but gave an optimistically outlook on expected increases in 2019. Regarding new transports, with a defintive focus on the automotive sector, there will be an extra boost within the group because of more efficient structures.
To put it classically: Service is our success ...
Images