15 years of LTE! Anniversary 2016.
2015-12-30 | LTE News
This year LTE | Logistics & Transport Europe will be celebrating its 15th anniversary.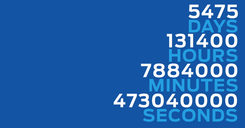 The formation of LTE Logistik und Transport GmbH already took place in the year 2000 - however the first train transporting rail cargo was launched in September 2001. Since then, LTE-group has become a European specialist for all sorts of rail cargo logistics. With 220 employees all over Europe we provide extensive services in rail logistics and transport of international cargo.
Downloads/Attachments
Images