LTE–group "en detail" | Julia Kiss (Business Development)
2019-05-31 | LTE Specialists
Since the turn of the year, enthusiastic economist and saxophonist Julia Kiss ("A saxophone is the sexiest instrument there is") is part of the LTE team.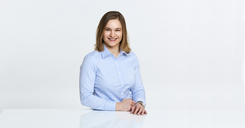 Julia Kiss coordinates the sales team in Central and Eastern Europe. With her dedication and years of experience in the field, she is helping the A-Team towards Triple A.
Because in addition to know-how, intuition and common sense, it is above all the constant and competent flow of information between the colleagues, which serves as a lubricant in the gearbox on the road - pardon - rail to success. "It is of extreme importance for employees to network, leave "their own private garden" and emphasize on group interests. Of course, this is highly significant for a company like the LTE–group with its international network, and I try to meet this demand for even more efficiency."
In addition, in the past Julia Kiss has gained a lot of experience in the agricultural industry and so fulfilling the image of the "Flying Dutchman" (the design of a Siemens multi-system locomotive) "from port to port", from Rotterdam to Koper with flying colors. Lately, she started fishing in new waters and is now quite successful in the fields of automotive, chemicals and intermodal.
Finally she summarizes her experiences in the LTE–group: "When I first met my colleagues at the end of last year it was a productive but also stressful jump into cold waters - lots of meetings - I felt like the "Flying Dutchman". In the meantime, LTE's reputation has gained its place in my daily work and I am delighted to be able to contribute to the success in this innovative company with the expertise of its employees and its modern fleet."

...to be continued...
Images