LTE rides on Noah's Train
2019-02-20 | Ecology, LTE News
The European rail-freight traffic is on track for environmental protection. Noah's Train is a work of art that - in reference to the first big deed for environment - makes a trans-European statement for climate protection.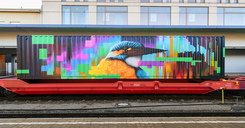 Hosted by Greenpeace and a number of railway companies - an art event from Katowice to Brussels, drew attention to the rapidly growing need for transport, as well as the need to address climate change and how to make a contribution in this regard.
"By 2030, freight traffic in Europe will grow by 30%," said ÖBB CEO Areas Mathä, adding that every tonne of goods on the railway "weighs" 21 times less for the environment than on the road. Therefore, according to Mathä, conditions have to be improved in order to increase the competitiveness of the railways, as a shift would quickly become climate-relevant. After all, 30% of greenhouse gases come from transport, which is 95% dependent on oil.
Noah's Ark therefore became the symbol of the oldest symbol of lived environmental protection in the form of a mobile work of art - Noah's Train, which the LTE–group also gladly supported through its active support.
Images