LTE-SK | Passengers with perspective
2017-10-18 | Tipps, Routes, LTE News
From Propad and Kosice - a summer special with LTE.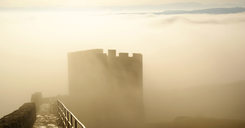 This summer, LTE Slovakia operated this very popular passenger route. The highlight of this route is the castle Spissky Hrad, which is particularly popular among hikers and cyclists. Spissky Hrad is among the touristical highlights of Slovakia - it is one of the largest castles in Central Europe and world cultural heritage since 1993.
Last season, exactly 1,778 passengers in 156 journeys, took advantage of our service in 156 journeys between June 3rd and August 27th 2017 provided by LTE Slovakia on ZSSK trains three times per day. At the remarkably low price of € 1 you could enjoy a comfortable trip, visit a cultural treasure of the region and last but not least do some sport while walking or cycling.

Well - perhaps we'll see you next year!
Images