LTE | Special Olympics Austria
2017-12-18 | LTE News
Santa Claus with the olympic spirit. LTE–group supports the Austrian Special Olympics Movement.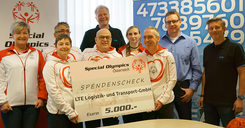 Despite the busy and sometimes hectic days, the Christmas-Spirit made a stopover at LTE-group's.
But let's start at the beginning: After CEO Andreas Mandl promised to support the Special Olympics again this year, a delegation of the Special-Olympics-Movement visited their sponsor to express their gratitude for his support.


Athletes, accompanied by their coach Mario Kastner, representatives of the Innsbruck office, Sabine Erhart and Nadine Baumgartner, as well as Managing Director Jörg Hofmann, introduced themselves and their valuable work to the team of the LTE-group, according their (special) Olympic oath:
"Let me win!
But if I can not win, then let me try courageously! "


Deeply impressed and inspired by the aforementioned Christmas-Spirit and sportsmanship, the originally planned amount of the donation was more than doubled and created an enthusiastic athmosphere amongst the paricipants of ths small ceremony.
Andreas Mandl, CEO of LTE-group added: "We appreciate your mission and your dedication, which contributes significantly, to the improvement of the quality of those participating in sports. That
team spirit should be a role model for us, the LTE-group with our continuously growing team. For now and in future: Let us work according to
the Olympic spirit and the spirit of sport! "
Images
Stay informed!
Fill in your email address and be informed get regular update from LTE-group!