LTE PL | Speedway - Powersliding à la LTE–group
2018-04-06 | LTE News, Tipps
Speedway – THE sport for motorcycle specialists – has a tradition of almost 100 years and is one of the most popular popular sports besides football in Poland, where our report comes from today. Arthur Kaldynski, CEO of the LTE–group's branch in Poland, supports GKS Wybrzeze Gdansk also for a different reason.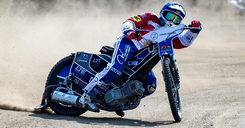 Speedway is not only one of the most popular sports, but also one of the most traditional in motor sports. Invented in Australia in 1923, the first races took place in a dirt track oval in Maitland, New South Wales. Billy Galloway and Keith McKay set out to inspire Europe. Not only did they conquer the hearts of athletes, but, as the example of Poland does, they also conquered the lives of thousands of spectators and fans.
The races take place, as mentioned above, on a track with a surface of a special loose rock mix. The motorcycles weigh approx. 80 kg, with a displacement of 500 cm3, reaching top speeds of up to 130 km/h and all this, without any brakes! With their sophisticated technique, especially the so-called Powersliding, the drivers generate a thrilling charm around these rather short races. Due to the races being only 400m long (or short more like), they only take no more than a minute. Points are awarded by the "Grand Prix System", depending on the rank achieved, and the driver with the most accumulated points wins the season.
Arthur Kaldynski has not only lost his heart to this sport, he also discovered parallels that connect him with the LTE–group: "The different clubs do not only send their "adult" stars to the races, they also give the next generation a chance. Here I discovered a need to support the young talents of GKS Wybrzeze Gdansk. As you can imagine, the sport is quite expensive, especially for the young, but especially in this environment of popularity an investment is well spent. But it is the athletes' enthusiasm, their precision and how they are able to achieve victories in a short space of time, which inspires me not only as a fan. As an employee of the LTE–group, it was a compelling effort that made me, through our support, bridge the gap between the two challenges."
to the homepage of GKS Wybrzeze Gdansk
Images