LTE | Locomotive design
2019-03-27 | LTE Specialists, Tipps
In addition to the proverbial scope of services of the LTE–group, which has been manifested by a competent team for almost two decades, a modern fleet of vehicles, in addition to its efficiency, impresses with its unique designs, is proudly representing the company. The designer Richard Barus told us what lies behind the design of the locomotives.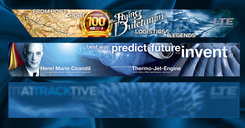 "We, above all Andreas Mandl, CEO of the LTE–group, emphasize in giving our locomotives their own personality," he ventures a first secret, "which also results in a high recognition value." In addition, in this way these "personalities" link a number of facts to LTE. "Travelling on many european rail-corridors, it is of course also our endeavor to express this accordingly," says Andreas Mandl. This is also manifested in references to the manufacturers.
LTE–group's Softronic's Transmontana locomotives operate exclusively in the Eastern European countries' transport network and have been branded with known technicians and scientists from Hungary and Romania. In the early 20th century Henri Maire Coanda, Karman Todor and Trajan Vuja - pioneers in the field of aeronautics - dedicated all their efforts to innovation and progress and by their deeds became legends.
The design series "Logistics For Legends" on the multisystem Siemens Vectron-Model is dedicated to legends of mythology, history and art. There is no other fictional charakter who describes LTE-group's range better than "The Flying Dutchman". This locomotive (in close cooperation with ELL) was the first in the series of legends - symbolizing the cross-border-services LTE provides from the Atlantic to the Black Sea, between Rotterdam and Constanta. The "Dutchman was followed by an "enchanting Loreley" (Rhine-Valley-Route), a "logistically persistent Hannibal" and a "devine Neptune" driving on the Alps-Adria-Route - adding colours to LTE's fleet.
Absolutely new and almost top secret secrecy: the design for the new Bombardier locomotives of the type 186: they will be branded with LTE-group's brandnew motto, presented at the last transport logistic in Munich. It could not be different - the LTE-group with its captivating team and such a fleet is just irresistible ... simply attractive!
"This closes the circle within LTE's corporate philosophy," agree Andreas Mandl and Richard Barus. "Because the unmistakable design of our modern locomotives expresses the fact that the 24/7 team throughout Europe competently and reliably provides our wide-ranging clientele with a bouquet of challenges." They can be proud of that, because of its unifying diversity, LTE's fleet became one of the most photographed on social media. Design 2.0 so to speak ...
PS: You find some more Details on our "locomotives"-page
Images
Stay informed!
Fill in your email address and be informed get regular update from LTE-group!