LTE and the Beach Twins
2017-10-19 | Tipps
Only few sport events can combine as many sportive and entertaining elements as beach volleyball.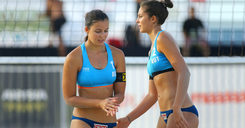 This is where athletes from different countries meet to compete for National, European or World Championship titles until their last drop of sweat whilst around them the court is raving with rousing summer parties.

From the point of view of austrian beach volleyball athletes, this season has been quite impressive: Tessa and Naty Strauss – called the "Straussis" or "Beach Twins" – became a strong (no more local) brand known for their powerful will for victory as they have impressively demonstrated.

If not ... this year was quite difficult for Naty, who experienced big troubles with her shoulder, but Tessa also achieved many of the set goals with worthy "substitutes": a spectacular first place in Binz (Germany) in early summer, top-ranks at numerous tournaments in Europe crowning the year with a victory at the Austrian national championships in Litzlberg.

What do the Straussis really have in common with LTE-group, one wonders: "We also need a well-trained team, where not only the right decisions have to be made within split-seconds, but also personal experience and necessary dedication are needed to get the ball over the net efficiently... to make our opponents look old" the two youngsters add with self-confidence and a wink in the eye.

We can only agree with this ...

www.straussis.at
Images
Stay informed!
Fill in your email address and be informed get regular update from LTE-group!