LTE | Klingers' silver sensation of Malaysia
2020-04-08 | LTE News
2020 kicked-off perfectly for our beachvolleyball duo Dorina and Ronja Klinger: After a training camp in Rio on Copacabana, the two impressively finished 2nd in FIVB-1-Star-Tournament in Langkawi (Malaysia).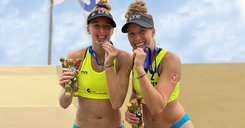 "We were seeded as No. 8," the two said on the phone - still overwhelmed with joy. In a heated battle under the blazing midday sun, the sisters, according to Dorina, "ignited the turbo in time," were able to succeed in the semifinals brilliantly, resulting in the shining silver medal. The joy of Dorina and Ronja was accordingly great: "First FIVB semifinals, first FIVB medal in the first tournament of the season, we are mega-mega-happy about it," they said enthusiastically.
All the more sad that this tournament may be their last for some time, because of the global corona virus. After returning to Austria, there were quarantined for 14 days. "As much as we are happy about the success, there are currently more important things because there's nothing more important than staying healthy."
Images
Stay informed!
Fill in your email address and be informed get regular update from LTE-group!